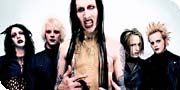 COOLEY/CONLON/CC ENT PRESENT
MARILYN MANSON
WWW.MARILYNMANSON.COM
THE TABERNACLE
152 LUCKIE STREET
SAT DEC 4 2004 8:00 PM
US $36.00
Tickets go on sale Saturday, and I think JamesT may already be standing in line to get in. Who could we talk into going with us? Takers?
Comments Off on Tickets, please.